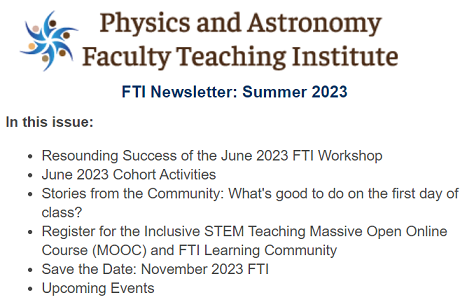 See our latest issue
Quarterly Newsletter
Get our quarterly newsletter to receive updates from the FTI about engagement opportunities for all physics and astronomy faculty.
Sign up for the FTI Newsletter
The Faculty Teaching Institute is a great experience for learning about exciting, effective teaching methods. However, workshop attendees often go home with great new ideas but need implementation help. Faculty members have high expectations about how they can improve their teaching, but need support when they face inevitable setbacks.
We offer a variety of opportunities for alumni to continue to apply what they've learned at the FTI in a supportive community of physics educators.
Core Communication Tool (CCT)
FTI alumni will be added to our core communication tool, Slack. Leadership team members will regularly add to the conversation and all other events and initiatives will be announced there.

Faculty Online Learning Community (FOLC)
FTI alumni are invited to join a FOLC to be partnered with a small group of colleagues from their FTI Workshop and two expert facilitators. FOLC participants meet virtually every other week, supporting each other as they hear from guests (typically practitioners of methods and ideas they want to learn more about) and each other about their teaching journey. The FOLC provides a support community to troubleshoot challenges and to celebrate successes. The FOLC will also support participants in completing a Scholarship of Teaching and Learning project. Past FOLC participants reported being in the FOLC helped them successfully implement new teaching strategies, increased their reflection about teaching, increased their confidence as teachers, and increased their knowledge about teaching. Although being in the FOLC takes time, most participants report it saved them time overall because the FOLC reduced the time they spent learning about teaching strategies and troubleshooting challenges. Learn more >>
Inclusive STEM Teaching Project & Online Learning Community
FTI is partnering with leaders of the Inclusive STEM Teaching Project to organize a special six-week FTI-specific online learning community to accompany the Inclusive STEM Teaching online course. This program is designed to advance the awareness, self-efficacy, and ability of STEM faculty to cultivate inclusive learning environments for all their students and to develop themselves as reflective, inclusive practitioners. Those engaging in the FOLC are strongly encouraged to participate in this course, as the FOLC programming itself will pause during this period in the fall. See the FTI event list for the the next Inclusive STEM Teaching course >>
Teaching Critiques
Using our CCT we'll be on the lookout for people who need specific feedback on materials (syllabi, exams, labs, etc) or on teaching methods or attempts. We'll schedule a teaching critique where those who sign up will commit to digesting the material, which could include watching a video of someone's teaching, for example, and coming to provide support to one or more colleagues who are seeking it. These kinds of conversations among teachers who aren't in each others' evaluation chains are often quite productive.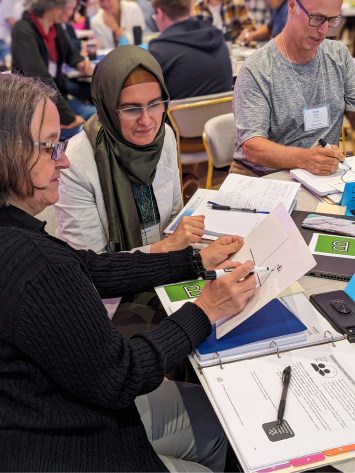 Free Help Sessions
Members of the leadership team along with the occasional FTI presenter will periodically schedule help sessions open to anyone to talk about both common issues and issues raised in the CCT. This is a great way to spend an hour to hear more detail about various approaches and to get your questions answered. See the FTI event list for the free help session schedule >>
Physics Teaching Podcast
We plan to host and publish a podcast all about the issues that you want to hear about. We'll use the CCT to seed the ideas, and we'll reach out to experts and practitioners from all over to help us have a fun and educational conversation that you can listen to in your car.