How do I develop student learning outcomes for physics courses?
posted August 12, 2021 and revised September 28, 2021
by Stephanie Chasteen
---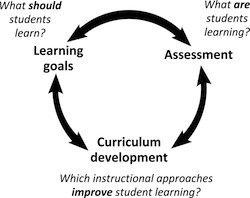 Student learning outcomes, or SLOs, are an explicit statement of what you expect students to learn. SLOs can be defined for a topic, course or an entire program of study. This recommendation focuses primarily on course-level SLOs, as opposed to topic-levels SLOs or program-level SLOs. SLOs define what is expected of students and what it means to understand something, without defining how that understanding will be taught. SLOs help sharpen the focus on student learning, and aim the attention of students and instructors on the essential messages of the unit, course, or major. SLOs are valuable in shaping the instruction and assessment within each course, and ensuring coherence and cohesion across sections, instructors, and the curriculum. For example, an course-level SLO for a second-year physics course might be "At the end of this course, students should be able to apply conservation of energy to real-world thermal systems such as home heating" (Carl Wieman Science Education Initiative, 2009).
What is a student learning outcome (SLO)?
A student learning outcome (SLO) is a specific, measurable statement of student learning. An SLO states what a student should be able to do as a result of learning. It should be specific enough that most people could agree on what it means, and you could assess whether a student achieved the outcome. Outcomes also reflect what you value in student learning and thus target your instruction, and student effort, appropriately.
SLOs usually take the form "A student should be able to..." Course-level SLOs are quite broad, and define what the course is about; typically a course will have 5-10 SLOs (Carl Wieman Science Education Initiative, 2014). Here are some example course-level SLOs:
Note that each statement uses a specific, active verb ("project", "translate", "appreciate," make") which describes the type of understanding or skill that is desired.
Course-level student learning outcomes are not the same as a syllabus: A syllabus will list the topics and material that will be covered and the time that will be spent on them, whereas course-level SLOs will describe what students are expected to be able to do as a result of learning about those topics. It is recommended that SLOs be listed on the course syllabus.
Below is a list and explanation of various terminology related to student learning outcomes.
Level
Terms (synonyms in italics)
Explanation

Program or major

Program-level student learning outcome
Program-level learning goal

"At the end of the program, a graduate should be able to..."

These define what a student should be able to do at the end of the entire program of study, and may be required for accreditation.

Course

Course-level student learning outcome
Course learning goal

"At the end of the course, a student should be able to..."

These define what a student should be able to do at the end of a course, and is the focus of this expert recommendation.

Topic or lesson

Topic-level student learning outcome
Student learning objective
Topic-level learning goal

"At the end of the lesson, a student should be able to..."

These define what a student should be able to do at the end of a lesson, topic, or module.
Because student learning outcomes can be at different levels of the learning process, it is useful to determine the period of time which is described by the learning outcome (e.g., course, topic, or program). Some instructors also organize their SLOs by lecture, section, or unit: You can use whatever level(s) of organization are most useful to you. All of these levels of learning outcomes should be aligned for a coherent major, and a coherent course: The topic-level SLOs should connect to the course-level SLOs, and the course-level SLOs should build towards the program-level SLOs.
Why are student learning outcomes useful?
Defining and circulating SLOs help primarily with communication -- with students and other instructors. They also help with vertical and horizontal alignment of the curriculum, course planning, and department strategy. Course-level SLOs help many people refine their understanding of the course:
Students so that they understand expectations and organize and focus their learning.
Instructors of that course to help them focus and design instruction and assessment, and align with others teaching the same course.
Instructors of adjacent courses to ensure they know what students should know at the start or end of their own course.
The department to ensure that program-level SLOs are all addressed, complement and build on each other across courses, helping to inform, assess, and shape the curriculum.
Instructors report that clear course- and topic-level SLOs make writing exams easier, and they feel that they can more easily navigate the difficulty of what to cover in the course (including the breadth vs. depth dilemma). Course- and topic-level SLOs also help support student success; by defining expectations explicitly SLOs can help level the playing field for marginalized groups, including first-generation college students and others who may not be aware of the often implicit expectations for what they need to do to succeed in a course. Students are overwhelmingly positive about having access to SLOs (Simon and Taylor, 2009), finding that they help to keep them on track, focus, see the organization and relative importance of material in the course, and generally know what they need to know.
SLOs are used within a process called "backwards design", where SLOs form the target of the instruction and the instructional planning works "backwards" from that intended end-point. What should students be able to do? What evidence would convince you of student success? How will you help students get there? (Bowen, 2017) Backwards design can be used at the level of a topic, course, or program. The goal of backwards design is alignment -- alignment between goals, instruction, and assessment.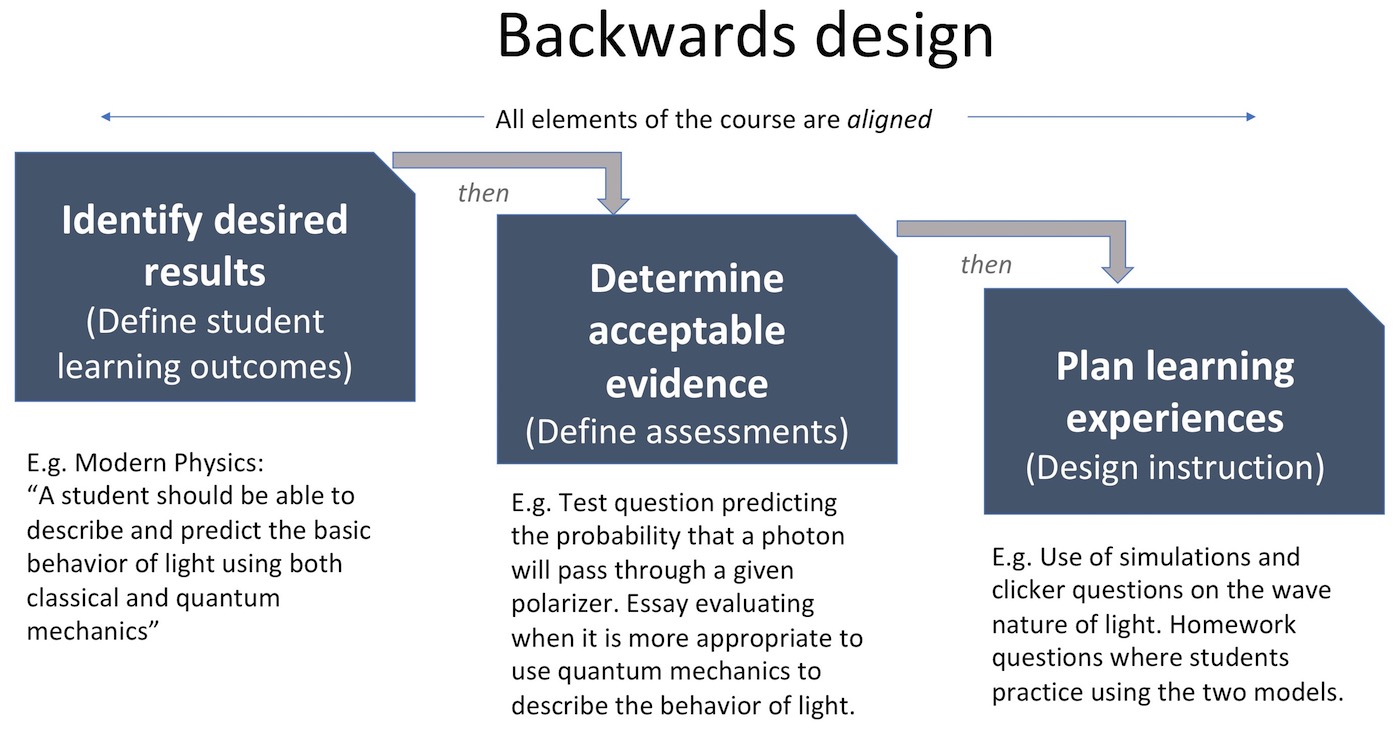 Having a departmental decision to universally adopt at least a subset of the course-level SLOs can be productive (both for course development, and sustainability). Even when course-level SLOs are defined by a department, rather than an individual instructor, there is still substantial room for individual instructors to have freedom and autonomy over how to teach their classes. Defining SLOs at any level does not dictate exactly what examples or content will be used to develop the desired skills, or how the content will be taught. Also, course-level SLOs might only cover 70-80% of the course content (Carl Wieman Science Education Initiative, 2014). Thus, course-level SLOs provide a valuable structure or scaffold for a course, guiding teaching, and ensuring a quality student experience that has been carefully designed. The instructor is still free to choose the important examples or methods for teaching the content, and to include topics that speak to their personal passion.
What is a good process for developing student learning outcomes?
Course-level SLOs can be developed by an individual faculty member for their course, or by a group of faculty aiming to reach consensus. Program-level SLOs are typically defined by a department as a whole. Finer-grained SLOs (e.g., topic, lecture) are typically defined by the faculty member(s) teaching the individual course. Faculty working groups can be incredibly valuable for developing course-level SLOs for a course or set of courses. A working group can be a faculty learning community or departmental team, composed of those who have previously taught the course and teach adjacent courses. Such meetings often provide a valuable forum for deep and productive conversations among faculty about student learning, attitudes, and the major. For example, at University of Colorado Boulder faculty wrestled with the question of how many times a student might need to see a particular topic, or how it would affect student attitudes for Math Methods to be the first upper-division course they take in the major (Pepper et al., 2011). It is helpful to have a facilitator set the agenda, take notes, review and synthesize materials and facilitate consensus. For guidance on facilitating such discussions, and prompting questions for faculty, see the short handout Facilitating Learning Goal Discussions (Chasteen, 2018). For a useful, short discussion of developing consensus course-level SLOs at University of Colorado Boulder, and lessons learned, see Pepper et al. (2011).
Even if not working with a faculty group, individual faculty should talk to their colleagues about their course-level SLOs; your course is part of a working whole, not an isolated independent unit. This is particularly true of some courses (e.g., if the course is a fundamental prerequisite to other courses or part of a two-course sequence), but all courses play a role in fulfilling the mission of a department and other faculty will have relevant expertise and guidance to provide. New faculty in particular should consult with senior colleagues and departmental guidelines.
How do I write appropriate student learning outcomes for different levels of courses?
Course-level SLOs will look different for different levels of courses, because the students and your expectations of those students will be different.
Courses across the curriculum should have learning outcomes that cover a range of levels of cognitive complexity (e.g., Bloom's Taxonomy; see next section), from simple memorization to critical thinking skills. It is not the case that lower-division courses should only have lower-level SLOs, and upper-division courses should only have higher-level SLOs. Upper-division courses still require students to memorize terminology (lower-level SLO), and lower-division courses should require creative problem solving (higher-level SLO). However, upper-division courses are likely to have a greater focus on higher-level SLOs, including critical thinking, creative solutions, and independent work. Because upper-division students have a broader foundation of knowledge and skill, upper-division courses can build on that previous knowledge and their commitment to the discipline to develop these high-level skills and understandings. And while lower-division courses may require students to develop initial awareness of ideas or start to develop skills, in upper-division courses the expectations may be that students develop a level of mastery in the same topics or skills. For examples of upper-division course-level SLOs, see the section on examples below.
Upper-division course outcomes are also part of a greater whole, in that they are part of a cohesive curriculum which is developing students as experts in the discipline. Thus, if the program has program-level learning outcomes (PLOs), upper-division course-level SLOs must build towards those program-level SLOs in conjunction with other courses. This is true of all courses in the major. Upper-division course-level SLOs are thus less independent from the SLOs in other courses than might be the case in the lower-division. As such, there is also likely to be greater departmental interest and concern in developing upper-division course-level SLOs.
How do course-level student learning outcomes relate to learning a particular topic?
Instruction and assessment about specific topics (for example, Newton's Third Law) should be guided by the course-level SLOs. It can be helpful to start with course-level SLOs, but you may eventually want to define topic-level SLOs to help design instruction and assessment at a finer-grained level. Typically, there might be 2-5 topic-level SLOs for a particular topic.
Example course-level SLO (5-10 per course)
Example aligned topic-level SLOs (2-5 per topic; each below is from a distinct topic or lesson)

A student should be able to describe and predict the basic behavior of light using both classical and quantum mechanics.

A student should be able to:

Describe the photoelectric effect.
Solve for photon energy given the frequency of light.
Predict the probability that a photon will pass through a given polarizer.
You can see more examples of course- and topic-level SLOs in the section on examples below. While course-level SLOs often need to be indirectly assessed through multiple forms of assessment (such as several exams and homework questions), topic-level SLOs can more often be directly assessed through specific exam question(s) or other assessments.
A valuable resource for developing topic-level SLOs is the Decoding the Disciplines approach which identifies student bottlenecks in learning, and unpacks the mental processes necessary for overcoming these bottlenecks. You can also view a short video on the decoding process here.
How do I write good student learning outcomes?
Not all SLOs are created equal. SLOs will be more useful if you write them well because then they will be more helpful in guiding instruction and assessment. This takes time and is usually hard to hit on the first try. This is also an opportunity to be choosy -- take this opportunity to streamline the course and keep it focused on the core ideas.
Course-level SLOs describe what is important in your course. What would you be mortified to discover your students hadn't taken away from your course? These are your top outcomes. Below is a checklist you can use when writing, and revising, a course- or topic-level SLO (adapted from Carl Wieman Science Education Initiative, 2014). Write these SLOs about what the student should be able to do, using well-defined verbs that appropriately describe the level and type of understanding that is desired. Make them clear, and measurable. Use everyday language when possible.
Checklist for developing clear student learning outcomes (SLOs)
Does the SLO identify what a student should be able to do after the course or topic is completed?
Is it clear how you might test achievement of the SLO?
Do the verbs have a clear meaning? (e.g., avoid the use of the words "understand" or "know")
Is the SLO aligned with the level of cognitive understanding expected of students? (i.e., higher- or lower-level understanding)
Do the SLOs cover the range of types of desired understanding?
Is the SLO written in a way that students will understand it?
Is it possible to write the SLO so it is relevant and useful to students?
Write SLOs at a variety of cognitive levels
Some outcomes are lower cognitive levels, such as asking students to recognize a term, or state a definition in their own words, or choose the right variable from a list. Others are at a higher cognitive level, such as asking students to analyze and graph data, evaluate the suitability of different methods for solving a problem, or design an experiment. A useful tool for evaluating cognitive difficulty is Bloom's Taxonomy (Bloom et al., 1956), which describes different cognitive levels from "remember" through "create." While there are some critiques of Bloom's Taxonomy because learning is not actually a hierarchical and linear process (Berger, 2018), it is still a useful tool for considering the level you are trying to get your students to achieve.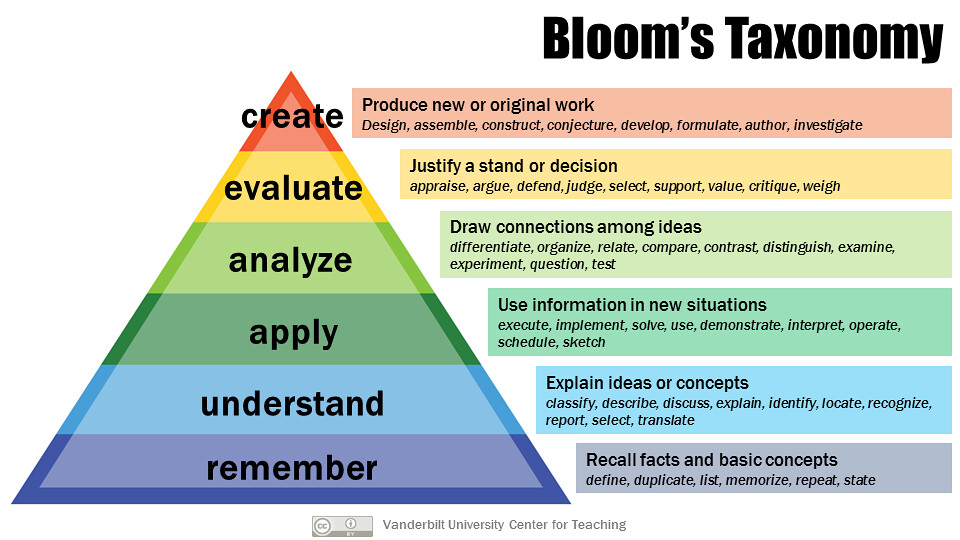 Bloom's Taxonomy, courtesy of Vanderbilt University Center for Teaching CC-BY
Start SLOs with a clear, measurable verb
Each SLO uses a specific verb to communicate the expectations of students; see Bloom's Taxonomy figure above for ideas of such specific verbs. A common mistake with developing SLOs is to write that students should "understand" or "know" something. These verbs are too vague to serve the purpose of clear communication or to drive assessment. Use more specific, measurable language. One of the reasons I use Bloom's Taxonomy for writing learning outcomes is because many people have developed useful lists of verbs and assessment practices that align with different levels of Bloom's (my favorite is here). A look through some of these lists can help you find more specific verbs -- for example, if you know that you want your students to "understand Newton's Laws" (which is too vague), what you want instead is for them to be able to "solve a problem using Newton's Third Law." Or at a lower level, perhaps you want them to "summarize Newton's Laws in their own words." Or, at a higher level, "students will be able to defend the choice of Newton's Third Law as a solution method for a given problem." Any of these new formulations lead more clearly to instruction and assessment; they are more measurable.
Use SLOs that cover a range of desired student behaviors
While many SLOs are written in terms of cognitive learning (e.g., facts and concepts), this is only one type of outcome you might be interested in. Below are some other types of learning outcomes to consider. (Phys21, Gagne, 1985)
| | | |
| --- | --- | --- |
| Type of outcome | Description | Example |
| Cognition | Physics-specific knowledge, facts and concepts; terminology, details, classifications, principles. | A student should be able to summarize Newton's Laws in their own words. |
| Procedures and skills | Techniques, methods, problem solving, experimental skills. | A student should be able to perform appropriate statistical analysis of data. |
| Metacognitive abilities (expert learning) | Self-awareness of what helps them learn, studying and learning strategies. | A student should be able to identify which areas of the course cause them the most difficulty, and which are most intriguing. |
| Professional skills | Communication, career opportunities, interview skills. | A student should be able to give an articulate oral presentation on the topic. |
| Attitudes and beliefs | Appreciation, enjoyment, value, habits of mind. | A student should be able to recognize that the world is not mysterious and unpredictable, but is governed by natural laws. |
How can I assess student learning outcomes?
Any SLO should be directly or indirectly measurable. How would you know if a student had achieved that SLO? Course-level SLOs may be measurable on a quiz, homework, test, project, lab, survey, oral exam, and more. Outcomes can be assessed formatively and summatively (i.e., during learning, or at the end to determine if learning has occurred). An outcome that asks whether students appreciate physics, or feel confident that they can do physics might be assessed on a feedback survey or a personal essay, for example. Because course-level SLOs are quite broad, you might need more than one assessment to convince you whether a student has achieved a particular SLO. Topic-level SLOs are often more specific and thus directly measured with a single assessment. The topic of assessment is beyond the scope of this expert recommendation, but you can find relevant learning assessments in PhysPort's assessment database.
I have my student learning outcomes. Now what?
Once you have developed course-level SLOs, you can use the process of backwards design to use them to direct instruction and assessment. (Bowen, 2017) For each SLO, outline the types of assessments you might use, and develop instructional techniques. Here are specific times you might use or refer to your course- or topic-level SLOs:
Use them when designing the course as a whole. See the Backwards Design Template from Vanderbilt (Bowen, 2017) for useful support for this process.
List them on your syllabus to orient students to your goals.
List relevant SLOs at the start and end of each day's class, as well as on assignments, handouts, and study guides.
Review them when writing your lecture and class activities for the day.
Review them when writing your exams and other assessments. Are you assessing the right outcomes, and at the right level? Consider identifying the Bloom's level of each exam item, called "Blooming" your exam. (Crowe et al., 2017)
Share with faculty teaching the adjacent courses.
How do student learning outcomes relate to the program or the major as a whole?
Program-level SLOs are learning outcomes written at the level of the entire major or program. The course-level SLOs should collectively align with and build towards the program-level SLOs. For example, program-level SLOs might include (Phys21):
Upon completion of the program, students should be able to represent basic physics concepts in multiple ways.
Upon completion of the program, students should be able to solve complex, ambiguous problems in real-world contexts.
Upon completion of the program, students should demonstrate critical professional and life skills.
The report Phys21: Preparing Physics Students for 21st-Century Careers (Chapter 4) includes lists of possible program-level SLOs appropriate to prepare students for diverse careers. These are available in the examples below. Course-level SLOs must then build students' capacity in the areas of these program-level SLOs.
Both program-level and course-level SLOs are usually required by institutions and accreditors. Accreditors typically require program-level SLOs to be posted on program web sites and course-level SLOs to be included in all course syllabi. Program-level SLOs are required to be assessed on a fixed timetable, usually every 3-5 years for a complete cycle of assessment. Required assessment of program-level SLOs can be used as a key element of internal departmental processes to improve your programs. Creating course-level SLOs is a great way to ensure that the work required to define program-level SLOs is actually useful for the department in designing a coherent and rigorous curriculum. Defining program- and course-level SLOs also supports a more intentional and coherent major. The process of aligning program- or course-level SLOs is called "curricular alignment" or "curriculum mapping", and is usually done by listing out the program-level SLOs, and then identifying (in a large table) which course(s) should address those program-level SLOs through their course-level SLOs. Through this process, some departments have found that concepts were repeated from course to course, or critical ideas were omitted entirely from the curriculum. You can find more about that process from the CU-Boulder handout on curricular alignment and the SERC guide to Building Strong Departments.
Where can I find more information?
CIRTL Massive Open Online Course (MOOC) "An Introduction to Evidence-Based Undergraduate STEM Teaching: Learning Objectives". A series of short videos on topic-level SLOs including "Why do we need learning objectives," "Introduction to backwards design", "Course scale goals vs. topic level objectives" and "What does it mean to know something".
Decoding the Disciplines. This page describes how to unpack expert understanding of a topic, allowing formulation of student learning outcomes that overcome common learning challenges ("bottlenecks").
Vanderbilt Backwards Design template. This page provides a useful overview of backwards design, along with a downloadable template for course planning using this approach.
Carl Wieman Science Education Initiative Learning Goals Page. This page has a variety of learning outcome resources including guidance, articles, and example outcomes.
Phys21: Preparing Physics Students for 21st-Century Careers. Chapter 4 of this report includes lists of possible program-level SLOs appropriate to prepare students for diverse careers. Many are very suggestive of course-level SLOs.
Building strong departments. This geoscience education page at the Science Education Resource Center (SERC) has very useful and relevant articles and ideas for setting department vision, program level SLOs, program assessment, and curricular alignment.
NILOA: National Institute for Learning Outcomes Assessment. An organization with resources to support the development of learning outcomes, including A Brief Guide to Creating Learning Outcomes.
What are some example student learning outcomes?
It is very useful to start with example SLOs as you work to draft your own. Below we provide some example SLOs developed from other sources. It is typical to have 4-6 program-level SLOs and 5-10 course-level SLOs for each course, but these numbers, and the organization of the SLOs, will vary by instructor preference. Many of the examples below are more detailed than typical, so keep in mind that you don't need to aspire to this level of detail for your own department. In addition, this is not meant to be an exhaustive list.