Behavioral Engagement Related to Instruction (
BERI
)
Developed by Erin S. Lane and Sara E. Harris
| | |
| --- | --- |
| Purpose | To measure university student behavioral engagement, defined as on-task behavior in the classroom. |
| Format | Observation protocol |
| Duration | N/A min |
| Focus | Teaching |
| Level | Graduate, Upper-level, Intermediate, Intro college, High school, Middle school |
Description of engaged and disengaged behaviors that observers use to determine if groups of 10 students are engaged during a given portion of a class session, from Lane and Harris 2015.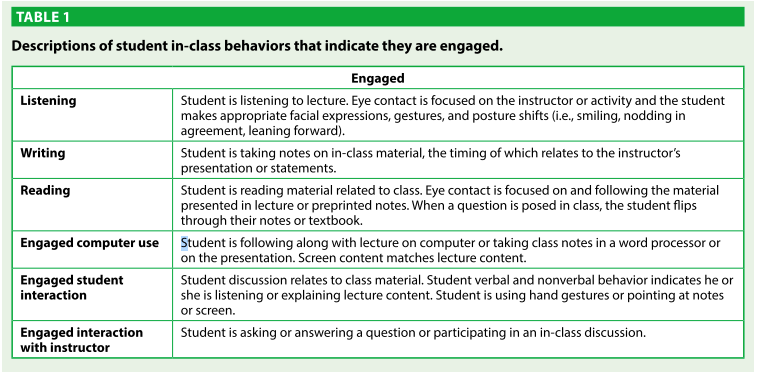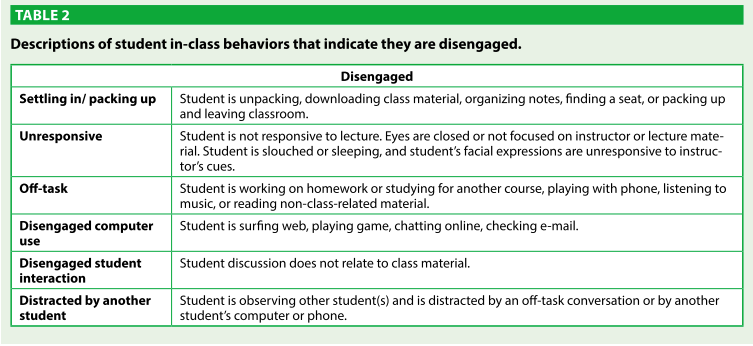 Everything you need to know about implementing the BERI in your class.

Bronze Validation
This is the third highest level of research validation, corresponding to at least 3 of the validation categories below.
Research Validation Summary
Based on Research Into:
Studied Using:
Iterative observations
Inter-rater reliability
Training materials
Research Conducted:
At multiple institutions
By multiple research groups
Peer-reviewed publication
The BERI observation protocol categories were developed based on observations of large classes to determine which student behaviors could be defined as engaged and disengaged. A table of engaged and disengaged behaviors was subsequently created. After several trials, the developers determined that 10 students was the optimal number to observe at once. New observers were given a short introduction to the BERI and then participated in one 50-minute practice observation session. Data from over 2000 individual judgements of student engagement from six paris of observers in three different educational settings resulted in an inter-rater agreement of 96.5%. The validity of the BERI was tested by simultaneously observing three different groups of 10 students in one class, where the developers found the level of engagement was consistent for students sitting in different parts of the class. They also tested the validity by observing students from the front or back of the class for 25 classes in one course and found students in the front of the class are significantly more engaged. The BERI was used to observe seven classes of varying sizes (50–300 students), in different subjects within science, on different course levels (first year to fourth year), and on 14 different instructors with varying instructional methods. They found that interactive lecture had higher student engagement than traditional lecture.
We don't have any translations of this assessment yet.
If you know of a translation that we don't have yet, or if you would like to translate this assessment, please contact us!
Typical Results
Typical scores from Lane and Harris 2015: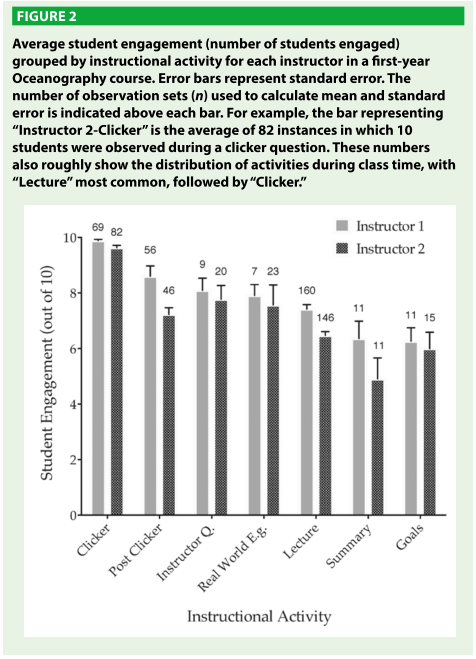 Typical scores on the BERI over one class period, from Lane and Harris 2015: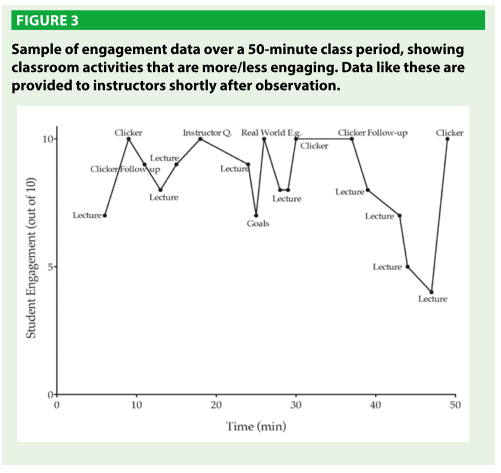 The latest version of the BERI, released in 2015, is version 1.