Basic Skills Diagnostic Test (
BSDT
)
Developed by Jerry Epstein
| | |
| --- | --- |
| Purpose | To assess fundamental skills in mathematics and basic quantitative reasoning. |
| Format | Short answer |
| Duration | 30 min |
| Focus | Mathematics Content knowledge (quantitative reasoning, basic algebra skills, arithmetic skills, measurement basics) |
| Level | Intro college, High school |



Research-based Validation
This is the lowest level of research validation, corresponding to at least one of the validation categories below.
Research Validation Summary
Based on Research Into:
Studied Using:
Student interviews
Expert review
Appropriate statistical analysis
Research Conducted:
At multiple institutions
By multiple research groups
Peer-reviewed publication
The questions on the BSDT were developed by the author based on student thinking. They were tested at multiple institutions with many different populations of students. The BDST is discussed in one peer-reviewed article and the results are available in one unpublished article.
References
J. Epstein, Cognitive development in an integrated mathematics and science program,
Jour. of Coll. Sci. Teach., 27 (3), (1997).
We don't have any translations of this assessment yet.
If you know of a translation that we don't have yet, or if you would like to translate this assessment, please contact us!
Typical Results
Overall results on the BSDT for a variety of courses and institutions from (Epstein, 2002, unpublished). All courses described below are college level course, except for "Canada gr. 13" and "Canada gr. 10" which were 15-18 year olds in Canada.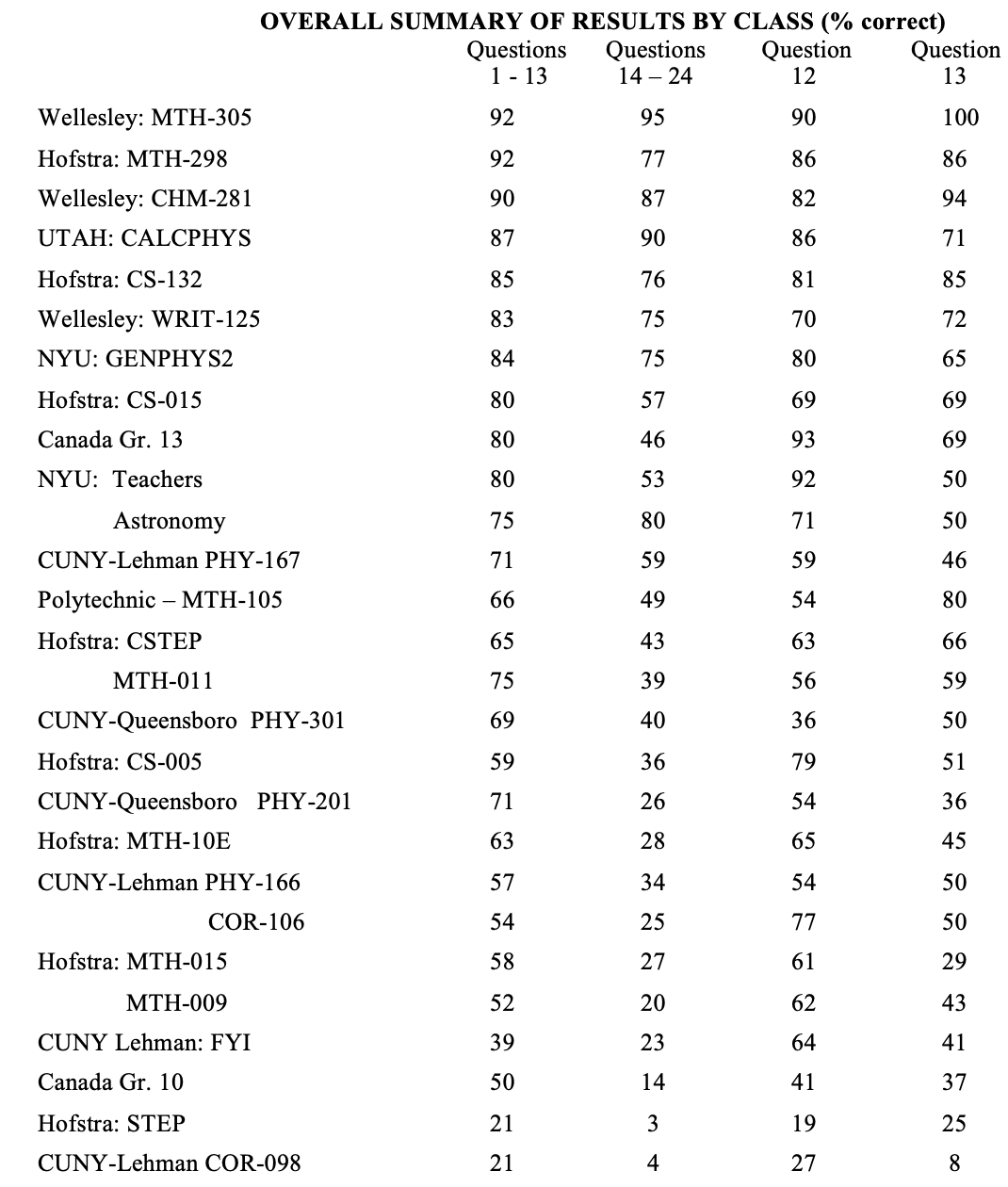 The latest version of the BDST, released in 1997, is called v1.