Flight Physics Concept Inventory (
FliP-CoIn
)
Developed by Florian Genz & Kathleen Ann Falconer
| | |
| --- | --- |
| Purpose | To assess students' understanding of flight physics concepts (lift, drag, stall, center of mass) using naïve student concepts as distractors. |
| Format | Multiple-choice |
| Duration | 28 min |
| Focus | Mechanics Content knowledge (fluid dynamics, aviation) |
| Level | Upper-level, Intermediate, Intro college |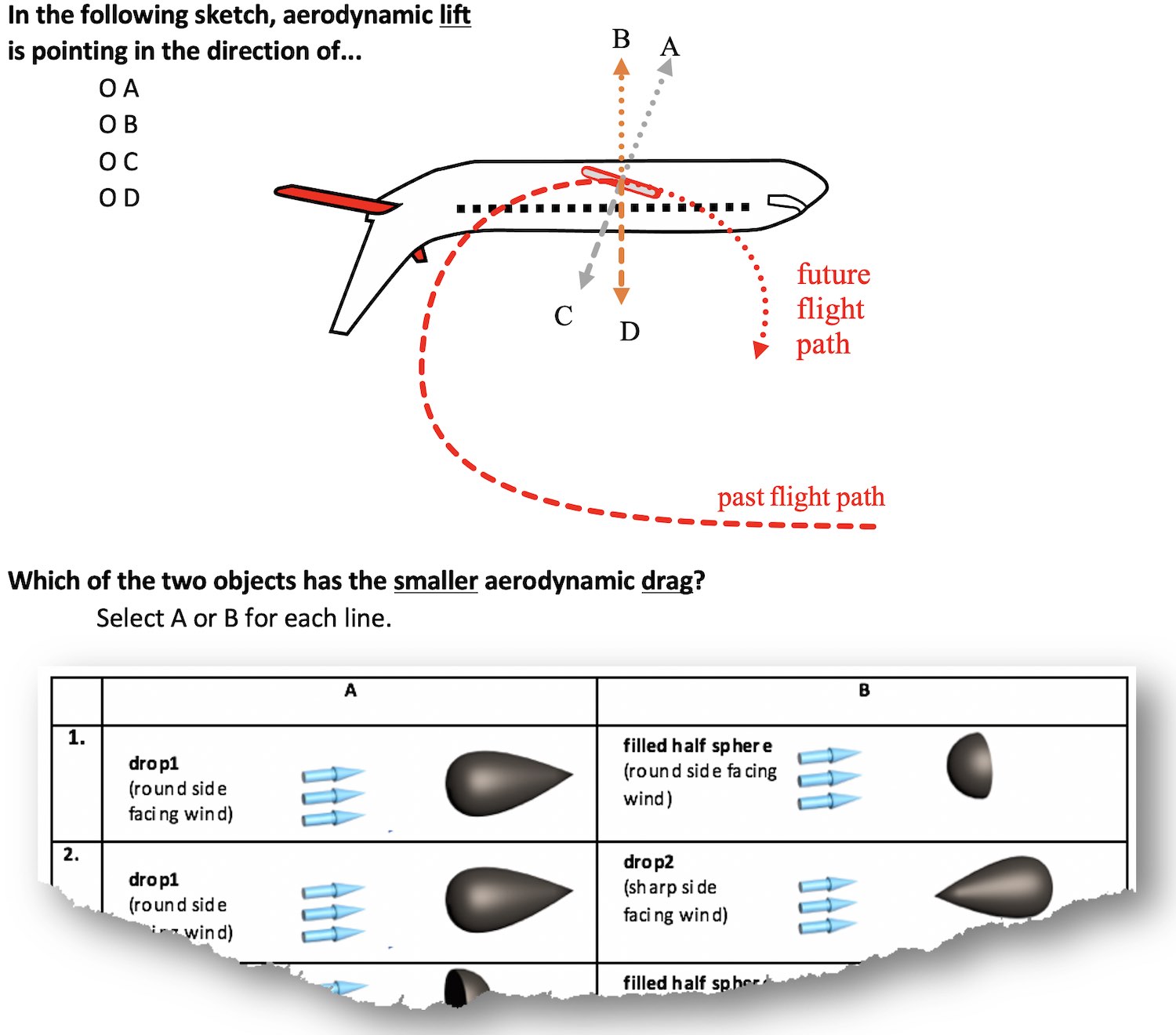 Silver Validation
This is the second highest level of research validation, corresponding to at least 5 of the validation categories below.
Research Validation Summary
Based on Research Into:
Studied Using:
Student interviews
Expert review
Appropriate statistical analysis
Research Conducted:
At multiple institutions
By multiple research groups
Peer-reviewed publication
The scope of the instrument was determined through expert interviews and the questions were refined based on expert feedback. The multiple choice responses were determined through student interviews, expert review, the literature and the developers teaching experience. Several rounds of think-aloud and focus group interviews with students were used to ensure the questions were understood as intended. In the final piloting study of over 270 university, students finished the survey without missing a single question. An item analysis resulted in a robust internal reliability (Chronbach α = .81) of the final questions and gave insights to item difficulty.
We don't have any translations of this assessment yet.
If you know of a translation that we don't have yet, or if you would like to translate this assessment, please contact us!
The latest version of the FliP-CoIn, released in 2017, is version 1. A short and simplified version for high school is under development. Contact florian.genz@uni-koeln.de for more info.