Quantum Mechanics Concept Inventory (
QMCI
)
Developed by Johan Falk
| | |
| --- | --- |
| Purpose | To assess students' alternative conceptions around 1D potential barriers, tunneling and probability distributions. |
| Format | Pre/post, Multiple-choice |
| Duration | 20 min |
| Focus | Modern / Quantum Content knowledge (wave functions, probability, 1D tunneling) |
| Level | Upper-level, Intermediate |
Sample question from the QMCI: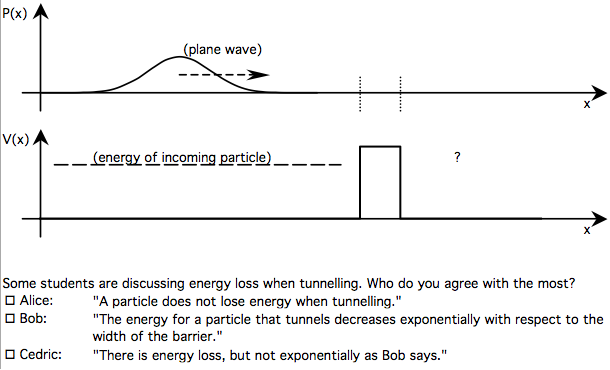 Research-based Validation
This is the lowest level of research validation, corresponding to at least one of the validation categories below.
Research Validation Summary
Based on Research Into:
Studied Using:
Student interviews
Expert review
Appropriate statistical analysis
Research Conducted:
At multiple institutions
By multiple research groups
Peer-reviewed publication
The multiple-choice questions on the QMCI were developed based on student difficulties with potential barriers, tunneling and probability distribution in one-dimension. The questions were tested with student interviews. The QMCI has been tested with 8 students and results are published in one paper.
PhysPort provides translations of assessments as a service to our users, but does not endorse the accuracy or validity of translations. Assessments validated for one language and culture may not be valid for other languages and cultures.
| Language | Translator(s) | |
| --- | --- | --- |
| Swedish | Johan Falk | |
If you know of a translation that we don't have yet, or if you would like to translate this assessment, please contact us!
Typical Results
There are no typical scores available.
The latest version of the QMCI, released in 2004, is version 1.03. All research has been done on Version 1.02. The only difference between 1.02 and 1.03 is that the word "higher" has been changed to "greater" when describing wavelength in question 9.