Thermal Concept Evaluation (
TCE
)
Developed by Shelley Yeo and Marjan Zadnik
| | |
| --- | --- |
| Purpose | To assess 3rd-year high school or introductory college students' understanding and application of thermodynamics concepts using common contexts that reflect students' own conceptions. |
| Format | Pre/post, Multiple-choice |
| Duration | 30 min |
| Focus | Thermal / Statistical Content knowledge (temperature, heat transfer, phase change, thermal properties of materials) |
| Level | Intro college, High school |
Sample question from the TCE: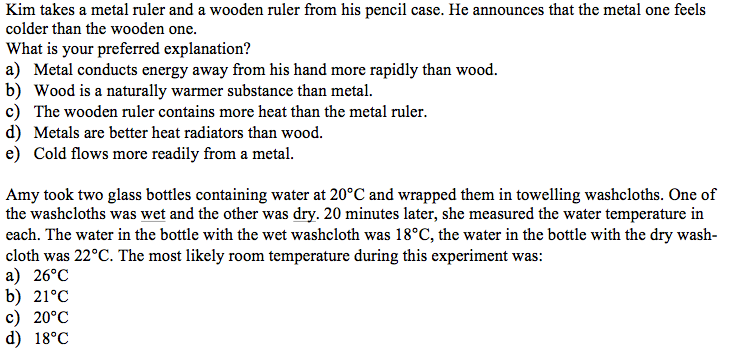 Silver Validation
This is the second highest level of research validation, corresponding to at least 5 of the validation categories below.
Research Validation Summary
Based on Research Into:
Studied Using:
Student interviews
Expert review
Appropriate statistical analysis
Research Conducted:
At multiple institutions
By multiple research groups
Peer-reviewed publication
The multiple-choice questions on the TCE were developed based on an inventory of alternative conceptions identified about thermodynamics in the research literature. The TCE was then tested and revised. The questions were also reviewed by experts and found to be valid, and were tested in interviews with students and were found to be interpreted as intended. Appropriate statistical analysis of reliability, discrimination and difficulty were conducted and reasonable values were found. A factor analysis was performed and four conceptual groups of questions identified: 1) heat transfer and temperature changes, 2) boiling, 3) heat conductivity and equilibrium, and 4) freezing and melting. The TCE has been used with over 1000 high school and introductory college students at nine institutions in Australia and Korea. There are two peer-reviewed publication presenting TCE data.
PhysPort provides translations of assessments as a service to our users, but does not endorse the accuracy or validity of translations. Assessments validated for one language and culture may not be valid for other languages and cultures.
| Language | Translator(s) | |
| --- | --- | --- |
| Chinese | Wei Fang | |
| Japanese | Hitoshi Katsuda and Shuji Ukon | |
| Portuguese | Marcel Braga | |
If you know of a translation that we don't have yet, or if you would like to translate this assessment, please contact us!

Score the TCE on the PhysPort Data Explorer
With one click, you get a comprehensive analysis of your results. You can:
Examine your most recent results
Chart your progress over time
Breakdown any assessment by question or cluster
Compare between courses
Typical Results
Typical scores from Yeo and Zadnik 2001. Average TCE scores and standard deviation for 2nd, 3rd and 4th year high school students (Y10, Y11 and Y12) and introductory college students (Y13). The normalized gain from pre- to post-test for the introductory college students is 0.30 (p<.05). A comparison between the pre-test and post-test scores of the Year 13 population yielded an effect size of 0.70, using a pooled standard deviation of 14%. The average normalized gain was 0.30.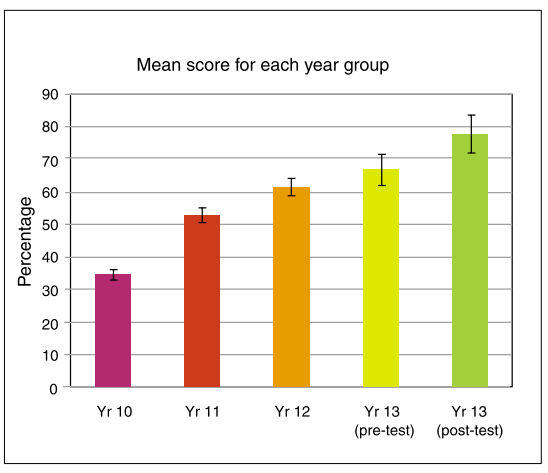 The version supplied, version 1, here has been revised to reflect U.S. idiom and common words. The original "Australian" version contained words and idioms common to Australia.
PhysPort Data Explorer