Lunar Phases Concept Inventory (
LPCI
)
Developed by Rebecca Lindell
| | |
| --- | --- |
| Purpose | To assess college students' mental models of lunar phases. |
| Format | Pre/post, Multiple-choice |
| Duration | 20-25 min |
| Focus | Astronomy Content knowledge (phases of the moon) |
| Level | Intro college |
Sample questions from the LPCI: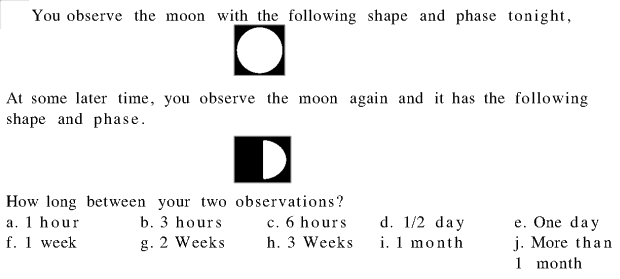 Bronze Validation
This is the third highest level of research validation, corresponding to at least 3 of the validation categories below.
Research Validation Summary
Based on Research Into:
Studied Using:
Student interviews
Expert review
Appropriate statistical analysis
Research Conducted:
At multiple institutions
By multiple research groups
Peer-reviewed publication
The multiple-choice questions on the LPCI were developed based on research into the dimensions and facets of students' mental models of lunar phases. Questions and multiple-choice answers were written based on the concept domains outlined for the LPCI and reviewed by experts. An initial version of the LPCI was tested with over 400 introductory astronomy students and appropriate statistical analyses of reliability, difficulty, concentration and discrimination were conducted. The identified several items to be revised. The LPCI has been given to over 750 introductory astronomy students at several universities.
References
R. Lindell, Measuring Conceptual Change in College Students' Understanding of Lunar Phases, presented at the Physics Education Research Conference 2004, Sacramento, California, 2004.
R. Lindell and J. Olsen, Developing the Lunar Phases Concept Inventory, presented at the Physics Education Research Conference 2002, Boise, Idaho, 2002.
R. Lindell and S. Sommer, Using the Lunar Phases Concept Inventory to Investigate College students' Pre-instructional Mental Models of Lunar Phases, presented at the Physics Education Research Conference 2003, Madison, WI, 2003.
We don't have any translations of this assessment yet.
If you know of a translation that we don't have yet, or if you would like to translate this assessment, please contact us!
Login or register to download the answer key and an excel scoring and analysis tool for this assessment.
---
Typical Results
Typical results from Lindell and Sommer 2003 for introductory astronomy courses at eight institutions.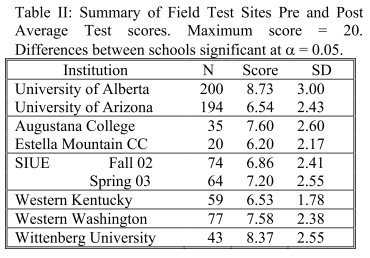 ---
Coming soon: The PhysPort Assessment Data Explorer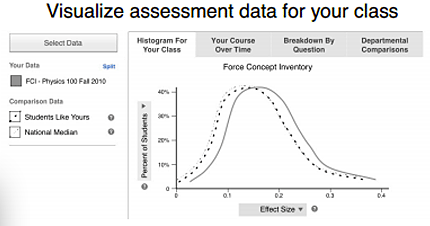 Start learning more from your tests.
Get 1-click statistics
Compare to students like yours
Get practical, personalized recommendations
The latest version released in 2003, is version 3. The initial version had only 14 questions, it was then expanded to 19 questions, and finally to 20.
PhysPort Data Explorer