What are some strategies for the first day of class, to set the stage for student engagement?
posted June 20, 2017 and revised January 12, 2023
by Stephanie Chasteen, University of Colorado Boulder
---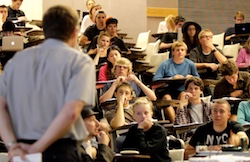 The first day is important for setting the class tone. It is especially important if you are using active engagement strategies, since students may not be expecting the energy and risk that an active classroom demands. This article focuses on activities that can be done in an active learning classroom in the first week of class, to increase student engagement throughout the semester. For ideas on how to support student engagement throughout the course see the Expert Recommendation "How can I set clear expectations and motivate students so that they engage in active learning?"
Interested in more ideas on student engagement? You can see all my articles on helping students engage in active learning, and also download a PDF summary of all recommended engagement strategies.
Why is the first day of class important for creating student engagement?
Explain to students why you have chosen to teach this way
Highlight the shortcomings of traditional lecture
Share success strategies from past students
It can be very useful to discuss the types of student behaviors that typically lead to success (Moore and Jensen 2007). One approach is to show common student responses about strategies for success, such as preparing for class and interacting with other students. See Advice to Future Students for an example. If you use Learning Assistants, those LAs can also provide such advice as undergraduate peers.
Solicit student ideas about the course
Ask students to reflect on their learning
Use active learning
Beginning the semester with active learning strategies sets clear classroom norms for interactivity. Below are several approaches for introductory active learning strategies which set the stage appropriately for an active classroom.
Open the floor for questions
Invite students to ask questions and spend the first day answering any question, even crazy questions, about your subject (see example activity Ask Me Anything). This establishes your credibility and creates rapport with students.
Engage students in accessible course content
There are several ways to jump into course content without requiring prior knowledge. You might ask students to solve an estimation problem in a group (see example activity Fermi Questions), or use an activity on the nature of science (examples: Nature of Science activities, Make a Paper Airplane, or several geoscience examples that could be adapted for other disciplines).
Structure groups for success
See the article "How can I help students work well in small groups" for more suggestions on structuring group work and tasks for engagement.