How do I help students engage productively in active learning classrooms?
posted June 20, 2017 and revised August 10, 2020
by Stephanie Chasteen, University of Colorado Boulder
---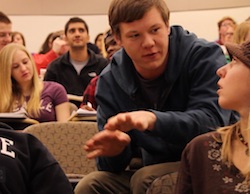 Introduction. This expert recommendation is part of a series on helping students engage productively in active learning classrooms.
If you incorporate active-learning strategies into your teaching, you may find that students don't automatically embrace this new learning approach. Students may just sit back and listen, waiting for their peers to answer. They may engage enthusiastically at first, but that exuberance wanes in the face of a busy semester. Students may even openly resist and complain (though this is somewhat rare).
As instructors, we can be mindful about how we shape the class structure and culture to make engagement feel safe and worthwhile. You, as an educator, have the power to impact student behaviors and perspectives with what you say and do, thus actively affecting how students are engaging with the curriculum and the content.
In this set of Expert Recommendations, you will find research-based recommendations for helping students to engage productively in active learning, along with concrete examples of how to incorporate these ideas in your classroom. This introductory recommendation will discuss student engagement in general, with links to individual recommendations that address key strategies that support student engagement.
The goals of this project is to identify and disseminate strategies that instructors use to engage students in active learning classrooms. This project arose from the Framing the Interactive Engagement Classroom project, led by Stephanie Chasteen (University of Colorado Boulder), with collaboration from Jon Gaffney (Eastern Kentucky University) and Andrew Boudreaux (Western Washington University). Many thanks to University of Colorado reviewers Rebecca Ciancanelli and Jenny Knight, plus undergraduate assistant Maya Fohrman. This work was generously supported by the University of Colorado Science Education Initiative and the University of Colorado Center for STEM Learning, via a Chancellor's Award. Please contact Stephanie Chasteen with any comments or questions.
Click here to access the entire set of Expert Recommendations on productive student engagement. You may also download a zip file of all recommendations and activities (26 MB), a PDF of these articles, and a PDF summary of our recommended strategies.
What is productive student engagement?
While many instructors talk about student "buy-in" (how much the students agree with the rationale for active learning), buy-in is only one component of what it means for a student to be actively engaged. You may have seen worksheet activities in which students were deeply engaged, due to the high cognitive demand of the task, but they don't like the activity ("it's like eating my spinach"). And while many students say they love clickers, you have likely observed students off-task during clicker questions, just waiting for the instructor to give them the answers. Thus, it is useful to think about engagement as having several dimensions, as outlined below (Engle and Conant, 2002; Fredericks, Blumenfeld and Paris, 2004; Chapman 2003; Demonbrun et al, 2017):
Behavioral engagement: Do students participate in the activity? Do they discuss with peers; are they attentive and persistent? Or are they off-task and distracted?
Emotional engagement: Do students feel good about the activity? Is it fun, fulfilling, interesting? Or do they lack confidence, or feel anxious or bored?
Cognitive-emotional engagement: Do students value the activity; do they feel the time used on the activity is beneficial? Or would they rather listen to a lecture? Do they recognize that the activities could beneficial for their major or career?
Take a moment to think about what might be missing in your class (see Chapter 5: Assessing Engagement for ideas.) In this series of chapters, we consider "productive student engagement" as the goal for our classes. Productive engagement includes behavioral, emotional, and cognitive engagement. How can we support students so they participate in active-learning activities, and feel that the activities are both worthwhile and fulfilling?
How common is student resistance?
Active resistance, especially during class time, happens much less often than instructors anticipate – several studies have found that students respond positively to active learning strategies (Nguyen et al., 2017; Nguyen et al., 2016). However, resistance can happen (Seidel and Tanner, 2013; Ellis, 2015). There may be "implementation dips", where student evaluations decline during first implementation of an active learning strategy, and then recover over time (Allen, Wedman and Folk, 2001). Students may resist active learning if they feel that it is more work: For example, in implementation of an active learning environment called SCALE-UP, students resisted the change, believing that they could have achieved the same grade with less work in a lecture class (Beichner, 2007). Students may also resist when they feel that the class design is unfairly imposed upon them, that expectations are unclear, or that the course is poorly taught. Such was the case in a well-known example of student resistance in the TEAL initiative at MIT (see Breslow, 2010). Often, such initial pushback can decrease over time, as students accept the class structure as the "new normal", and initial difficulties are addressed (e.g. Breslow 2010, Koretsky and Brooks, 2012). See also Chapter 9: Student Complaints for discussion of student evaluations.
The most common form of resistance may be passive, non-verbal resistance, or partial compliance (Shekhar et al, 2015; Demonbrun et al, 2017). Thus, I recommend that it is more productive to think about engaging your students productively (pulling them into the active learning) rather than avoiding resistance (which can inadvertently set up an adversarial relationship).
What can I do?
Negative feedback from students can sometimes cause an instructor to prematurely give up on the idea of using active learning strategies, saying that students "didn't like it." Usually, the problem isn't so much that students truly don't like active learning, but that it isn't quite what they expected. Students, like anybody else, need help in figuring out how to work well and succeed in a new environment.
Luckily, there is much we can do to help our students. Student engagement is actually much more strongly connected to what an instructor does and says than the type of activity, students' expected grades, or students' prior experiences with active learning. (Nguyen et al., 2017). You might look at some advice from instructors we have compiled, to learn from the collective wisdom of master teachers, and start thinking about your own preferred approaches!
One crucial aspect of student engagement is how motivated students feel to participate. Students feel motivated when they feel competent, connected to others, a sense of ownership over their learning, a connection to their own personal interests and goals, and believe that they can succeed (Pintrich, 2003). However, just because a student is motivated to engage doesn't mean that they will engage. Some students may be easier to engage than others. For example, younger students, those with prior experience with active learning, and/or a higher tolerance for ambiguity and risk, may be easier to engage (Ellis, 2013). Thus, there is no single "magic bullet" for increasing engagement, but using a constellation of approaches – such as creating a respectful atmosphere, setting appropriate expectations for students, and helping students take ownership of their learning – can have positive impacts on student engagement.
While the easiest approach may be to explain to students why you're using these instructional techniques, we have heard from several instructors that this approach has limited success (or may even have had negative consequences), so we suggest a much broader approach. Below are some general principles for improving engagement.
General philosophies for improving student engagement
| | |
| --- | --- |
| Address engagement early and often. | Address issues of engagement from the first day, but don't leave it there. Revisit these issues periodically through the course. Student perceptions and class norms shift over time (e.g. Breslow 2010, Koretsky and Brooks, 2012), and different messages are salient at different times (Ellis, 2013). Students will become fatigued over the semester, and feel pressure from other courses (Ertmer, Newby and MacDougal, 1996). |
| Show (rather than just telling) students why interactive engagement is helpful for their learning. | While explanations about the benefits of active learning have their place, this didactic approach is not sufficient. First, we learn best through experience, so experiencing the benefits of active learning, rather than hearing about them, is likely to have more impact. Second, explaining why you're using such teaching techniques might frame active learning as something controversial that students should resist by default. Third, you as the instructor may be seen as inflexible, ignoring students' learning styles and 'knowing what is best for them.' |
| Address engagement interactively. | Rather than just explaining why you are using active learning, practice what you preach when it comes to engagement. Use active-learning activities such as direct experience and discussion to help students reflect on their learning, think about the class structure, and become self-directed learners who decide to engage. |
| Adopt the perspective of your students. | Be student-centered in your reflection on student engagement. Think about how they experience the course, their own identity with respect to the subject, their experience of group dynamics, etc. Looking at their experience from the other side of the podium may often inspire new approaches to supporting their engagement. |
| Promote engagement, rather than suppressing resistance. | Anticipating negative responses can be self-fulfilling, and can inadvertently lead to an adversarial stance among some students. Promote engagement instead, and draw your students in to active learning. Remember, active resistance seems to be quite rare. (Nguyen et al., 2017; Nguyen et al., 2016), so don't expect resistance or automatically take a defensive position. |
| Be consistent. | It's important to build trust by being consistent in the messages you send students. For example, don't talk about the importance of progress and effort, but then grade sharply on a curve. Grading on a curve is inconsistent with a non-competitive, collaborative classroom. Be consistent in the goals, instruction, and assessment of student learning, so that students feel that the activities are aligned. Adopting a backwards design framework is an effective way to achieve such an alignment. |
What approaches can I use to frame my classroom for productive engagement?
The main work of this project has been to collect specific approaches to promote engagement. What follows is a list of general factors – social, emotional, structural and cultural -- which promote student engagement. Each factor represents a distinct but interrelated issue, and affects how deeply students engage in the learning activities. Each chapter summarizes the research related to these factors and provides recommended strategies for helping students engage, supported with relevant examples. The chapters can be read in any order. You might focus on factors that seem particularly relevant for your course. Or you might try one strategy from within each factor. We also have a suite of example activities, linked within these chapters. Click here to download all materials from this project (Zip).
Below are listed all the activities which are directly linked within chapters. Note however that there are many recommendations made within the chapters which are not reflected in these standalone activities. So, I recommend reading the chapters themselves to see these activities and other recommendations in context.
How do I apply these ideas in specific situations?
Below are recommendations for specific, common situations or problem areas.
Further reading on this topic
Brief Bibliography
References
Image courtesy of PhET Interactive Simulations, University of Colorado Boulder