expectations Recommendation
1 Recommendation is tagged with "expectations"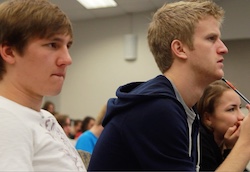 June 20, 2017
by Stephanie Chasteen, University of Colorado Boulder
---
If you teach using active learning strategies, you may find that students don't automatically engage. Students may just sit back and listen, waiting for their peers to term. Luckily, open resistance is rare. You have the power to impact how students engage with the curriculum and the content.
active learning, expectations, first day of class, productive engagement, student buy-in