Where can I find good activities for small group discussions?
posted September 26, 2016 and revised March 30, 2017
by Sam McKagan, PhysPort director
---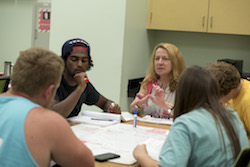 Nearly all research-based teaching methods in physics involve some kind of small group discussions of challenging conceptual activities. Research suggests that it's not enough to tell your students to work in groups unless you also have high quality research-based activities (Cummings et al. 1999). Thus, finding good activities is an important component of making small group discussions work in your class. This recommendation includes links to collections where you can find activities to use in your class, whether you are just trying to incorporate more small group activities, or are using a particular approach such as SCALE-UP, Peer Instruction, CAE Think-Pair-Share, Technology-Enhanced Formative Assessment, and teaching with clickers.
Collections of research-based conceptual activities to use for small group work:
Collections of multiple-choice conceptual questions for small group discussions:
Image ©Stephanie Schulz/ or Chandler Prude – Texas State University CCBY